Welcome to SPCP Bookstore. Your one-stop-shop for all your supply needs.
Books and supplies are optional but SPCP makes supplies and books for the school year readily available for pickup at our boutique or for delivery through courier service. 
Choose your Level and download the form. Accomplish the form and email a copy to bookstore@spcpasig.edu.ph.
Purchasing office will send you a reply indicating the total amount for deposit or transfer.
Payment for books and supplies may be made through online payment transfer or deposit to:
Account Name

ST. PAUL COLLEGE PASIG INC.

Account No.

2103-0079-36

Bank

BPI

Remarks

Name of Student & 6-digit Student No.

Item Description
Books or 

Supplies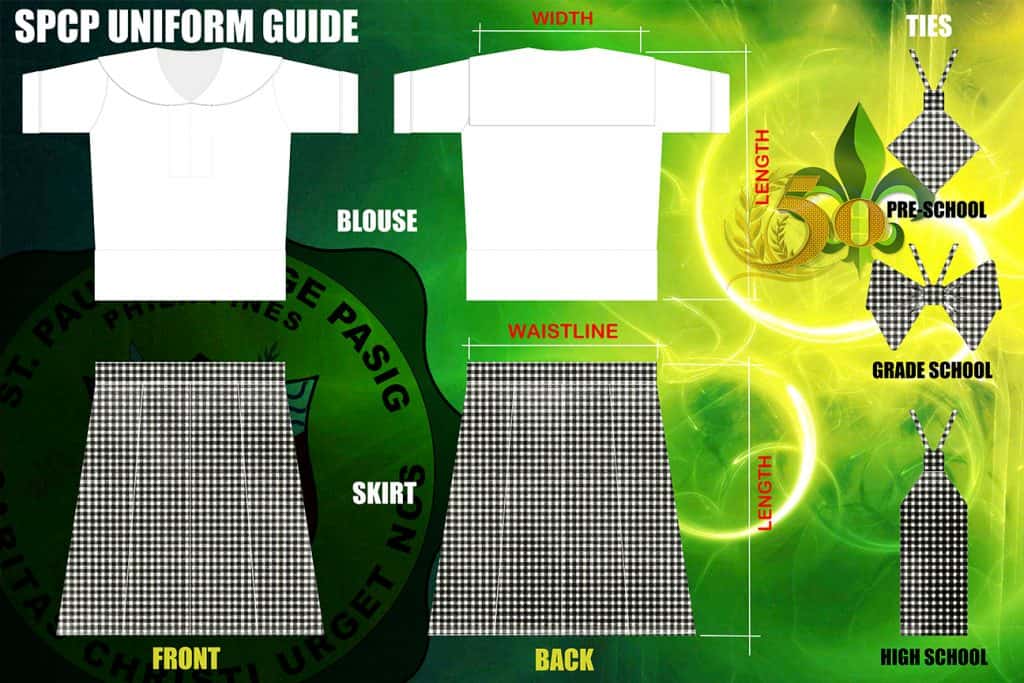 BLOUSE
 
SIZES
WIDTH
LENGTH
SIZE 10
30
16
32
16
SIZE 12
32
18
34
18
SIZE 14
36
20
38
20
40
20
42
20
SMALL
38
22
40
22
MEDIUM
40
24
42
24
LARGE
40
25
42
25
XLARGE
44
25
46
25
2XLARGE
48
26
50
26
3XLARGE
52
27
54
27
SKIRT
SIZES
WAISTLINE
LENGTH
SIZE 10
20
15
26
15
28
15
30
15
28
14
30
14
SIZE 12
20
18
26
18
28
18
30
18
SIZE 14
20
20
22
20
24
20
26
20
28
20
30
20
SMALL
22
22
26
22
28
22
MEDIUM
28
24
30
24
LARGE
29
26
30
26
XLARGE
31
26
32
26
34
26
35
26
2XLARGE
36
26
38
26
40
26